Holistic Massage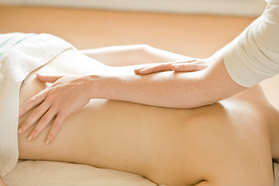 "Each session with Carina is my hour of solace and rebalancing which sets me up for the week better than anything I can think of! Her gentle manner and her intuitive way of working discovers knots and tightnesses that I am unaware of, and I leave feeling uplifted and energetic and 'smoothed out"
I have been practising massage now for 16 years. Initially I achieved a Diploma from VTCT in Body Massage in 2001. Since then I have aquired professional development accreditations in Emotional Processing in Massage, Reiki Level 1, Hands Free Techniques, Rhythm Mobility©, Deep Tissue Massage, Fostering Flexibility© and myofascial release. In 2010 I also became accredited by APNT in Pregnancy Massage.
I am fully insured and have professional membership with the Federation of Holistic Therapists


---
Holistic Massage has widely appreciated benefits. Many cultures and medical systems incorporate massage into their general practice to maintain health and wellbeing. While many of us see massage as a treat or perhaps as emergency care when the stresses and strains just become too much, many people are returning to an understanding that massage can be included in life to help you to feel your best and to optimise your health.
This is a question I am frequently asked by my clients. Working holistically is about honouring the body as an integrated system, and witnessing the physical, emotional and spiritual aspects of the self. Holistic massage is a dialogue between your body and the therapist. A massage routine isn't imposed on you, one the most important aspects of a massage treatment is the opportunity to have your body listened to in a compassionate and nurturing way. Each treatment will bring something different, sometimes this means that deep work is appropriate and sometimes the body might respond well to gentle touch that facilitates a deeper letting go.
---
Massage, especially a holistic massage, can bring with it many health benefits. The deep relaxation that is often reached through massage provides the perfect space for the body to heal on many levels.
Physiologically, deep relaxation supports the function of many systems of the body including the nervous system. The nervous system is responsible for our stress responses. How often do we hear that our health problems both minor and more serious are due to stress? It's a cultural epidemic and is responsible for a vast majority of our physical and emotional health problems.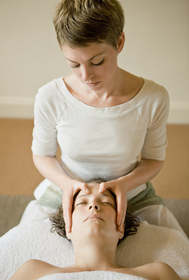 ---
our sense of humour - and ability to engage creatively with life.
Massage soothes the nervous system and restores the body's balance helping us to reclaim our ability to deal with what life throws at us.
Massage provides you with a moment of reconnecting and finding yourself which can be invaluable for your sense of wellbeing and is essential when life puts high demands on you.
Massage has far reaching and broad benefits, each person responds very differently to it. One thing I have discovered is that you can actually improve your ability to recieve massage. Now that is an art worth mastering!
All of my treatments begin with a consultation to establish what sort of work you need at that moment. My approach is very intuitive and personalised so within each massage I may draw on a range of techniques;