Beginners Holistic Massage Workshops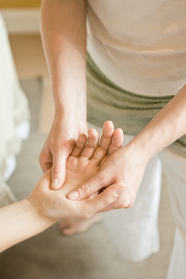 Throughout my years of massage experience I have often considered what is at the heart of a really good massage? And I have decided that what it comes down to is the

quality of touch

. We all know about tones of voice but we don't often really explore different tones of touch. Yet it is something each of us can learn to connect with.
Through movement, meditation and practical massage techniques we will explore how you can transform even a simple massage into something deeply rewarding for both the giver and receiver.
You will leave feeling ready to massage your friends and family with joy and confidence.
---
Comments from previous students
"Not only have I gained new skills and confidence within massage,
I also left feeling completely clarified and my mind was cleansed"
"I felt inspired and more grounded."
"An excellent and useful workshop. I learnt a lot and very much felt I was in the presence of a genuinely knowledgeable and kind person"
"The workshop exceeded expectations"
---
Next Workshop
I will be running further workshops in 2012
Contact me by phone or email for further information and bookings.